Ivory ban welcomed
By Edith Mutethya | China Daily Africa | Updated: 2017-02-10 08:57 (credits)
East Africa has applauded China's announcement of banning all domestic ivory trade and processing activities by the end of 2017.
Members of the East African Wild Life Society (EAWLS) gathered in Nairobi on Jan 7 to celebrate the 60th anniversary of the society expressed their delight with China's recent decision to ban the ivory trade, saying it will save Africa's remaining elephants.
According to the Great Elephant Census survey carried out last year, Africa now has 352,271 savannah elephants left.
In 15 of the 18 African countries covered by the aerial survey, where information on previous populations had been recorded, 144,000 elephants were lost to ivory poaching and habitat destruction in less than a decade.
The current annual loss from poaching is estimated at 8 percent, meaning that about 27,000 elephants are slaughtered each year.
Julius Kamau, EAWLS executive director, says the move is expected to offer a glimmer of optimism in the fight against elephant poaching in the region.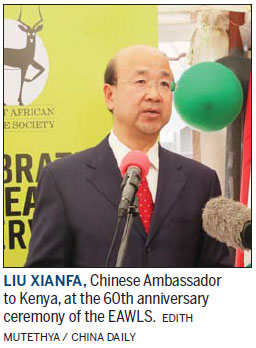 "We have been advocating for a ban on the ivory trade for some time now, hence we are happy about the initiative by the Chinese government. We hope poaching activities will reduce significantly," he says.
Noting that China is the world's largest consumer of ivory, Judi Wakhungu, Kenya's cabinet secretary in the Ministry of Environment and Natural Resources, says the ban on the ivory trade by the Chinese government will go a long way in conserving Africa's wildlife.
Wakhungu says China's involvement in Africa's wildlife protection and conservation in terms of donating equipment and providing expertise in recent years is commendable.
According to Chinese Ambassador to Kenya Liu Xianfa, the appreciation of his government's initiative by the African countries is humbling.
"We are so proud that this historical measure is considered by the international community to be the most important and far-reaching decision in wildlife protection. It also affirms China's resolute, steady and continuous progress in this important arena," he says.
Liu says his government is keen to work and share experiences with international societies, especially in African countries, to promote wildlife protection and conservation.
Going forward, Kamau says EAWLS will continue to engage the Chinese embassy in Kenya in publishing its Swara magazine in Chinese.
The magazine is a quarterly conservation publication which serves to inform and educate its readers on key conservation issues from an objective viewpoint and provides a platform for the informed debate on environmental issues and governance.
The Chinese version of Swara focuses on topical issues that are of interest to Kenya and China. "We hope such stories will continue to convey a message of hope and conservation as well as update communities on the progress of wildlife conservation," he says.
Liu assured the society of the Chinese government's continued support for the publication, as well as its circulation around the globe.
The ambassador says wildlife protection worldwide should strengthen international cooperation.
"The role of governments, enterprises and NGOs should be well played," he says.
Together with other countries, China launched 'Operation Cobra' and has on many occasions swung into action against illegal trade of ivory and other wildlife products.
(China Daily Africa Weekly 02/10/2017 page21)